Shawnee — If needles make you squeamish, look away.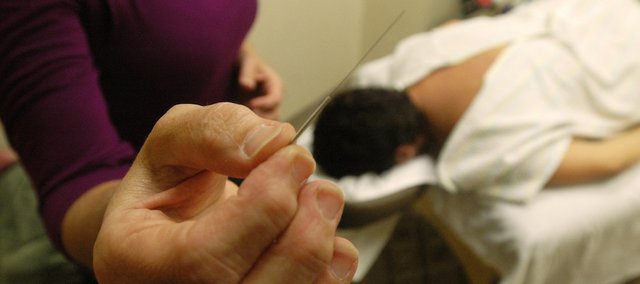 Dr. Kimberly Flaming traces her trained fingers down Patricia Fraker's neck, searching for just the right spot to insert a sharp, 4-inch-long piece of metal. Once she's stuck Fraker with a dozen of them, Flaming connects the needles with colorful wires that run low-level electrical current directly into her patient's body.
It looks like a crude torture device, but it doesn't hurt. In fact, the opposite is true.
"It feels good," says the 46-year-old Shawnee resident. "Just a little buzzing."
Over the past few months, the pair have made a routine of the poking and prickling at Shawnee Chiropractic & Acupuncture Clinic, where Fraker is seeking relief in the aftermath of a rare ailment — West Nile virus, which attacked and damaged her nervous system.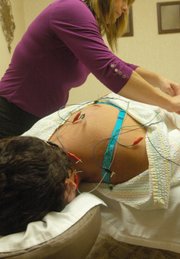 "I can't raise my right arm above my head, so my left side overcompensates," Fraker says. "I have a lot of pain in my shoulder and my hip from not being able to use the right side of my body."
On this visit, she tells Flaming that her left hand and thumb have been extra painful recently.
"I can feel that," Flaming says, and sticks a needle there, too.
Hard diagnosis
Twenty-seven people in Johnson County suffered from West Nile in 2012, according to figures from the Johnson County Department of Health and Environment. Almost half of those cases, 13, were reported in August.
Fraker's was among them. She contracted the mosquito-borne illness that causes fever, headaches, fatigue and even death, last fall.
"It came on like a bad flu, with a rash," Fraker recalls. "At first I thought it was an allergic reaction. I go to CVS and they're like, 'We think something's really wrong with you.'"
Fraker visited her primary care physician, who told her to keep a close eye on the rash and go to the emergency room if things got worse. She also paid a visit to Flaming's office, where she was already a chiropractic client.
"Kim noticed a bug bite on my back, and she said, 'Something's not right here.'"
So Fraker went to the ER at Shawnee Mission Outpatient Pavilion at Prairie Star Parkway in Lenexa. Doctors there told her they'd need to send out for a West Nile panel.
"I'm just freaking out," Fraker says, "and they come back and say, 'We need to do a spinal tap.'"
That test revealed meningitis, which often shows up first in West Nile cases. Doctors referred Fraker to a neurologist at Shawnee Mission Medical Center, who made the final diagnosis.
"I barely remember about three days of my life," she says. "I couldn't keep anything down, I was weak."
No comprehensive treatment currently exists for West Nile patients, so instead of attacking the virus, doctors address the symptoms. Fraker was put on IV fluids and respiratory support, and closely monitored as West Nile wreaked havoc on her nervous system. She spent weeks in inpatient and then outpatient physical therapy to try to regain full motor function in the right side of her body.
To see original article, click here: http://www.shawneedispatch.com/news/2013/aug/19/shawnee-woman-finds-relief-west-nile-acupuncture/